Dogecoin price to fall again by 60% predicts analysts
Analysts based his prediction on typical "Head and Shoulder" pattern
Elon Musk Tweets did not help Dogecoin and just created another lower high
The future of Dogecoin seems pretty bleak, with analysts predicting another huge crash by 60%. The meme-based cryptocurrency had on May 8th tanked by 60%, and experts predict that the joke coin could fall by 60% again soon.
Dogecoin (DOGE) could face a 60% fall in near future
The meme-based crypto coin started as a joke, could be facing another steep fall shortly. Looking at the Dogecoin (DOGE) charts, it is not difficult to see an alarming classic bearish structure. Pseudonymous analyst Tyler Durden pointed towards what is known as the typical "Head and Shoulder" pattern.
When a digital asset forms three peaks and the middle peak comes higher than the other two peaks, it constitutes a typical "Head and Shoulder" pattern. Durden pointed to the Head and Shoulder-like pattern to predict a 67% price crash in the Dogecoin market. The analyst also hinted that the pattern could crash once it breaches the $0.299 support level.
Dogecoin crash is predicted if values touch $0.299
The slide expected in such a scenario is equal to the pattern's height. In the case of Dogecoin, this height comes to $0.197. Dogecoin crash is predicted if it touches $0.299-support. As Durden highlighted, the Head and Shoulder pattern's downside target lurks near $0.05.
Durden further added that Elon Musk's tweets did not save Dogecoin, but he just created another lower high, and 0.05 is programmed.
Temporary supports for Dogecoin
The DOGE/USD exchange rate reached its zenith on May 8 at $0.76 before correcting by a little over 60%. The road to the May 8 peak of $0.76 was a part of the 16,462% price explosion if measured from the beginning of 2021.
The nadir of Dogecoin was $0.00112, which was in the pandemic led March 2020. Its rise to $0.76 came out to be 67,757.14%. This huge jump made Dogecoin, the meme-based joke coin, the best performing financial asset in the world. It beat the combined returns of big boys like Bitcoin (BTC), S&P 500, Nasdaq Composite, and gold.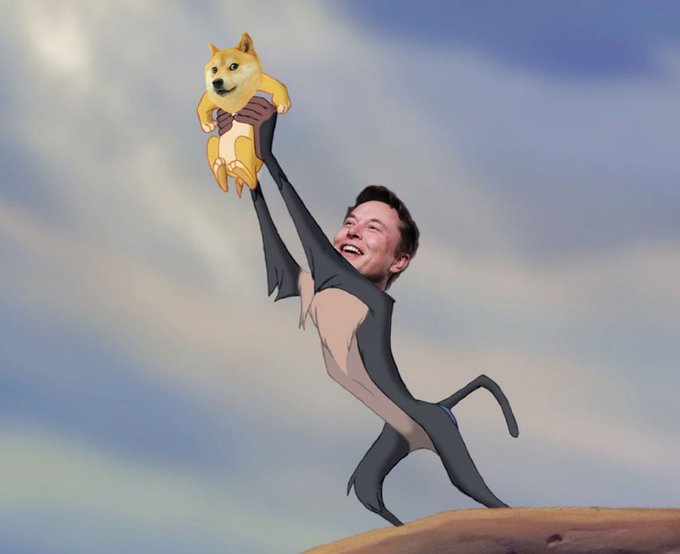 Elon Musk Tweets helped DOGE multi-thousand percent price surge
There was nothing big about Dogecoin's performance. It was tweets from Elon Musk, a billionaire entrepreneur who sent positive messages for the cryptocurrency, which helped its multi-thousand percent price surge. On April 28, the Tesla CEO christened himself as DogFather, and this sent the Dogecoin values soaring by 18% on the same day. Earlier, Elon Musk wanted to work with Dogecoin developers to streamline transaction efficiency. This lead to another jump in Dogecoin prices of 25.25% on May 13. However, the Musk precipitated rally was all bluster and no substance.
Dogecoin had maintained a steady $0.040-$0.047 area in February-March 2021 post its 50%-plus bearish correction from the then all-time high of $0.1. The range was held for eight weeks before Doge resumed its upward rise towards $0.76.